Wetland Creation Project Underway on the Fens in West Norfolk
2014 has been a very busy year for us on our wetland creation projects. We have spent a lot of time at Holkham on the North Norfolk Coast, working on a large new wetland site for Natural England. Additionally, we have also been working on a number of different sites in Norfolk for Norfolk Wildlife Trust. Our latest project in this very specialist area sees us working in West Norfolk on the Fens.
This project is again being completed in conjunction with Natural England, along with the land owner of the farm where the project is happening.  This project involves creating new wetland areas in the unique location beside the banks of the River Wissey.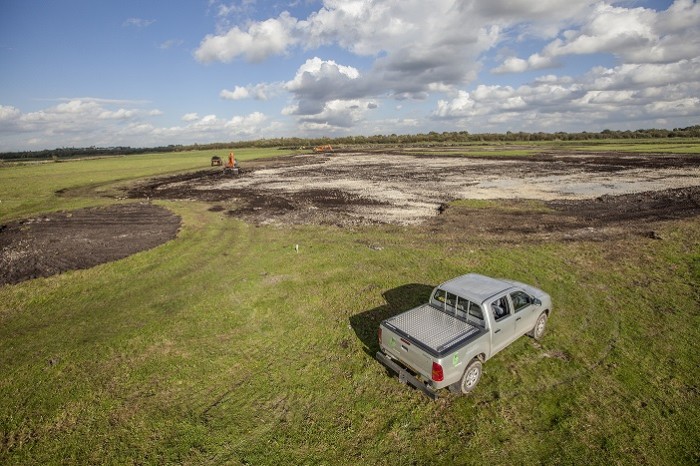 It has been uniquely designed to create a specialist habitat offering an array of differing water depths to encourage a variety of wildlife and birdlife into the wetland site.
Crane, lapwing, avocet, redshank and snipe already flock to this specially created site, while new and reworked ponds and ditches festooned with purple loosestrife, attract otters, grass snakes, brown hawkers and black-tailed skimmers.
Deep channels, pools and shallow scrapes have all been incorporated into the new wetland environment and existing reeds have been transplanted to create suitable habitats for the nesting wader birds in the spring of 2015.
We have been involved in this project from the outset, undertaking the preliminary topographical surveying works and the wetland design. Our longstanding practical experience in working in difficult ground conditions has meant that over the past few weeks, our team has been able to progress efficiently, which means the project is almost now complete.
Once finished, water levels will quickly rise on the site to carefully controlled levels which have been designed to create the correct balance of water and dry land within the area.
The combination of fresh reed beds along with feeding grounds created around the wetland pools, will create a diverse natural habitat for the wildlife. This will provide protection for the long term future for the scores of rare birds which already come to this part of Norfolk.
If you have a wetland creation project which you would like us to get involved in, please don't hesitate to contact us on 01362 820371.