The Importance of Culverts
With the Indian summer continuing and autumn cultivations pressing ahead with perfect soil conditions this autumn, it is easy to forget the important role that ditch systems played 12 months ago when a very different weather pattern was upon us.
Ditch systems were filled to capacity transporting surplus water away from arable fields following on from substantial above average rainfall.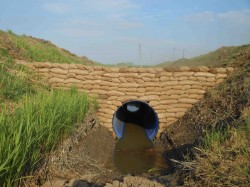 Culverts are an integral part of any arable farm providing a safe passage over ditch fields into arable fields. The pipes that are used to allow the water to flow through the culverts are pivotal in maintaining water flow within the ditch systems.  Put simply, having a blocked or damage culvert results in water backing up the ditch system which in turn causes the surrounding arable land to be wet.  Poorly performing culverts highlighted this very issue last winter and as a result, we have seen a significant increase from farmers approaching us to replace culvert pipes which have seen better days this autumn in preparation for the coming winter.
One common mistake that is routinely made with culvert pipes is failing to install an adequately sized pipe to cope with the potential peak flows involved.  Careful consideration needs to be given to the flow rates within the ditch which are created from the catchment area which the ditch serves.
Technical Director Justin Morfoot comments, "We regularly see 150mm diameter culverts installed by farmers which are woefully inadequate to cope with the flows involved.  The smaller diameter pipes are commonly installed because they are cheaper than the larger alternatives, but it's a false economy in the long term because they block and cause the water to back up the ditch systems."
The need to correctly size the culvert pipe is important along with ensuring it is correctly installed by an experienced drainage professional so that the water flows through it correctly.  William Morfoot Ltd install a range of culvert pipes from 225mm in diameter right the way up to pipes which are 1500mm wide.
With wide gateways forming an important part of farm infrastructure to cope with the efficient movement of big machines between fields, it is all too apparent why installing these structures correctly is playing a key role in ensuring that ditch systems are able to operate effectively across arable farms today.