Successful wetland project for Norfolk Wildlife Trust
We have just completed a successful project for the Norfolk Wildlife Trust, which has added 100 acres of wetland, including 50 acres of reedbed, between the River Thurne and Candle Dyke near Potter Heigham.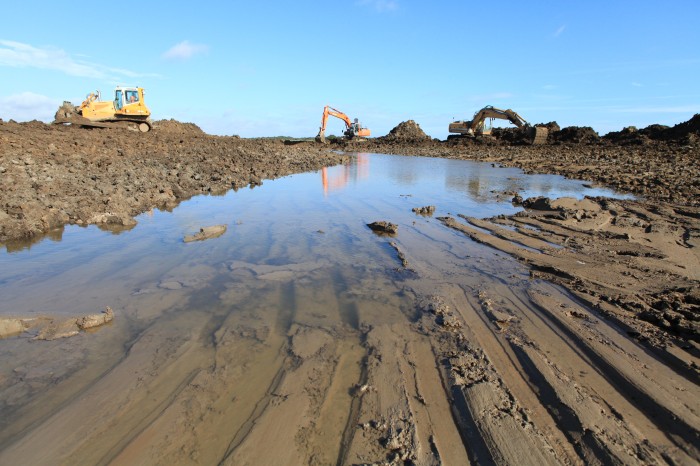 The wetland was created to optimise the habitat for the rare breeding bird species, the bittern and marsh harrier that require reedbeds for breeding and feeding.
We were appointed to enhance the wetland habitat, which has since seen marsh harriers now using it for hunting, as well as sightings of barn owls and a long-eared owl.
As always, we were particularly conscious of the huge sensitivities around a project of this kind. Careful planning and working incredibly closely with Norfolk Wildlife Trust and The Environment Agency has enabled us to enhance the natural habitat for these rare bird species.
As part of the five-week project, we created seven open areas of deep water at the Potter Heigham reedbed creation site, which link up to the internal perimeter ditch. The deep water pools are essential as they provide a safe area for fish, which become prey for the bittern species. Over 25,000m³ of soil was excavated in order to create the pools which are up to 1.5m deep.
The resulting spoil was spread over the neighbouring land in thin layers or in some cases as low ridges. The pools are now deep enough to prevent establishment by reeds so should stay open for many years.
Broadwood Conservation Management have planted more than 40,000 reeds around each of the seven pools to create the ideal feeding habitat for the bittern species. The network of reed-filled ditches across the site will also aid in the spread of reeds to compliment the planting of the reed plugs, grown from Hickling reed seeds by British Wild Flower Plants, as the site wets up.
Nick Carter, Wetlands Project Officer at Norfolk Wildlife Trust said: "The additional works carried out will really make the site attractive to feeding bitterns and creates large areas of open water. The creation of this new wetland will attract many additional bird species, not only the two target species of bittern and marsh harrier, but also bearded tit, water rail, reed, sedge and Cetti's warblers and little egrets."