Latest Wetland Project Delivered
Over the last few weeks, we have been working closely with Norfolk Rivers Trust to transform some low lying meadows in North Norfolk  into something rather special.  The meadows have a stream running through the centre of them which over the years has been heavily dredged with the ground either side being used for summer grazing of livestock.  The stream feeds directly into the River Stiffkey – one of Norfolk's chalk river systems which host a diverse and unique set of aquatic plant and wildlife that thrive in the environment that the gin clear waters create.
The landowner's of this project worked closely with Norfolk Rivers Trust with a clear aim in mind of improving and enhancing water quality as it worked it's way down the water course whilst creating a more varied and dynamic wetland habitat on the ground surrounding the water course.  This was quite an ambition given that the ground surrounding the meadows is extensively farmed in an arable capacity and there is a significant amount of water which therefore makes it's way off the higher arable ground down towards the water course each year.
William Morfoot Ltd worked with NRT from the outset conducting some topographical surveys and developing features and design options within the new landscape to help the project aims be realised.  The practical delivery of the project was also delivered in partnership with NRT- with ecological expertise being provided by NRT and practical delivery of the project being provided by William Morfoot Ltd.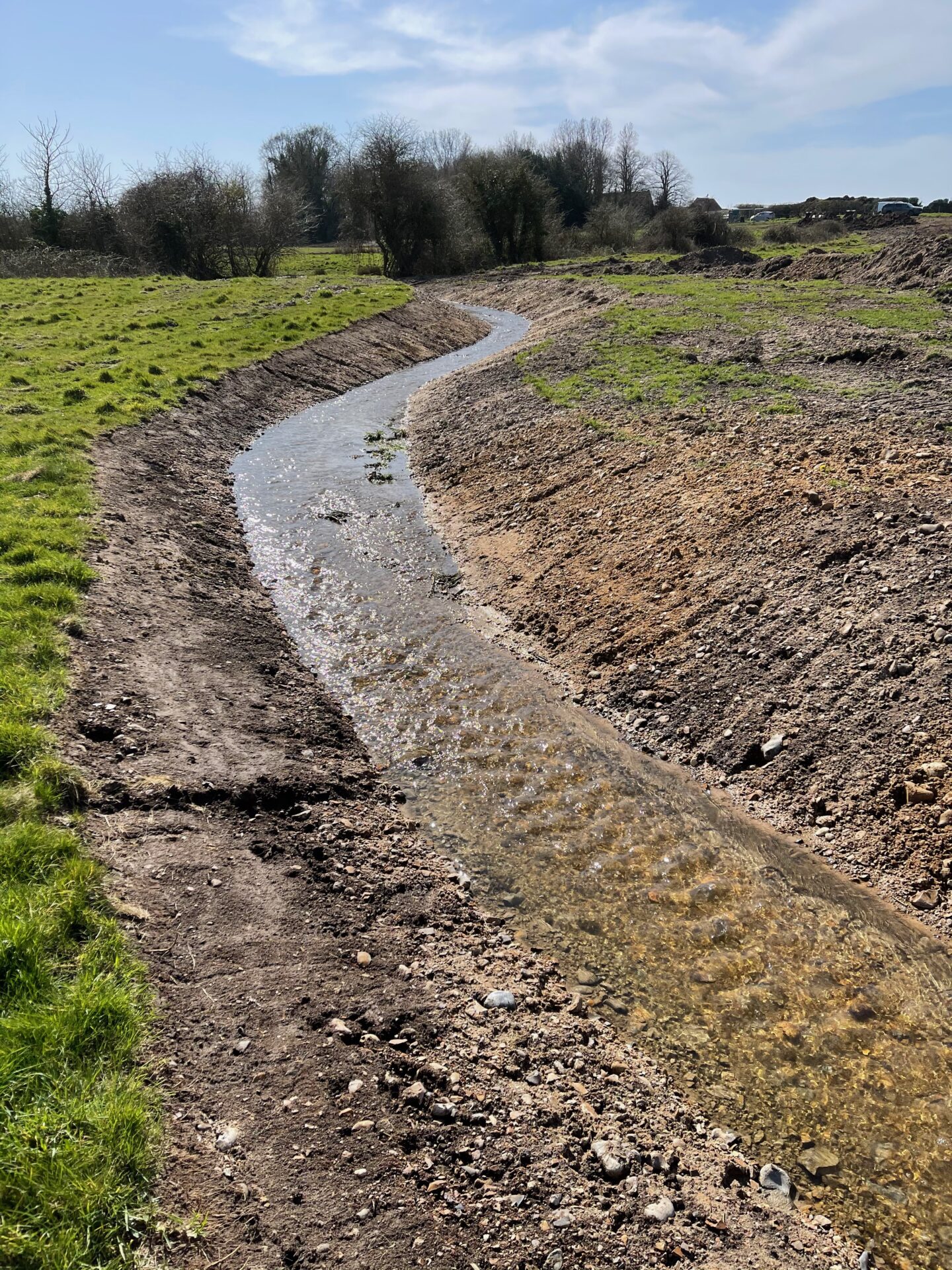 The results have been impressive with water levels being raised along the length of the meadows to create new semi wet habitats which retain water far more readily.  New gently curved meanders have been introduced as well as a number of shallow pools and scrapes.  Existing pond areas have been enhanced still further to create feeding and nesting grounds for wetland birds and the team were pleased to note some breeding snipe nesting in the area before the works had finished!  Water Vole activity has also been observed too with the NRT team being confident that species numbers will steadily build in the years that follow the successful delivery of this project.