Land Drainage Investment in a Drought
Lack of rainfall not affecting the interest levels in Farm Drainage Investment
 The continuing prolonged dry spell in the UK has caused major concern in recent weeks as crops on lighter land have become under increasing stress on account of the ongoing lack of rainfall.  With just 1 month in the last 10 having above average rainfall levels, it is easy to forget the conditions that were present throughout the previous wet winters and summers – which caused a damaging crop loss statistics for many farms in the UK.
On the surface, it might appear that drainage investment is therefore something of an untimely thing to be considering going on the dust that is blowing in the countryside at the moment!  However, the appetite and interest to invest in land drainage projects has shown little sign of fading away amongst the farms that we are working with and indeed the story from 2017 so far suggests that the appetite for investment in agricultural land drainage is growing.
A lot of farms we are working with are looking to replace old and outdated drainage systems from the 60's and 70's. With the uncertainty in future farm incomes caused by the Brexit decision and volatile crop prices, it seems that many growers we are working with are adopting a back to basics strategy.  Principally this has involved ensuring good basic soil structures and sound crop husbandry practices to max out yield potentials on the land that they farm.
The ongoing low interest rates in place in the UK also have meant that it has been attractive to growers to make improvements to their farms in the form of drainage investment – meaning that farms are able to get the instant benefit of owning better drained land now – rather than funding drainage projects over a prolonged period of time and potentially missing out on yield potentials if the season turns wet.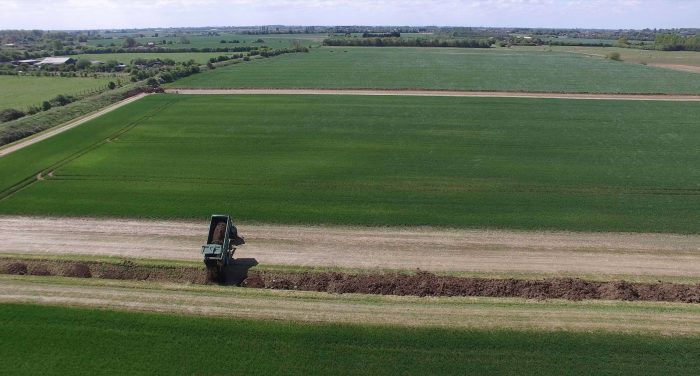 The last couple of months has seen our teams working on a large number of through the crop drainage schemes as well as carrying out a lot of ditch improvement work and field amalgamation works too.  The post harvest work load for 2017 from July onwards suggest that many more hectares will be improved throughout the rest of this year as growers look to make long term improvements to their wet fields – in spite of the fact they may be looking super dry and unproblematic in the drought like conditions we are currently experiencing!
To find out more about the land drainage work that we do, click here.