New Trencher joins our drainage equipment line up
This week has seen our company take delivery of our latest drainage trenching machine – a Mastenbroek 30/20 Trencher which was custom built in Boston, Lincolnshire to our specifications.  The machine represents the very latest in trenching technology boasting an array of clever technological advances which allow us to ensure we can deliver our projects in the most efficient way possible – whilst ensuring that the quality of our operation is at the highest standard available.
This purchase is part of an ongoing and significant period of investment in our company which has allowed the business to ensure that sufficient resource is available to the company when required.  Contracting is a complex operation in terms of ensuring the timeliness of the delivery of our projects.  This machine will go a long way towards ensuring that additional capacity is available to us when we need it.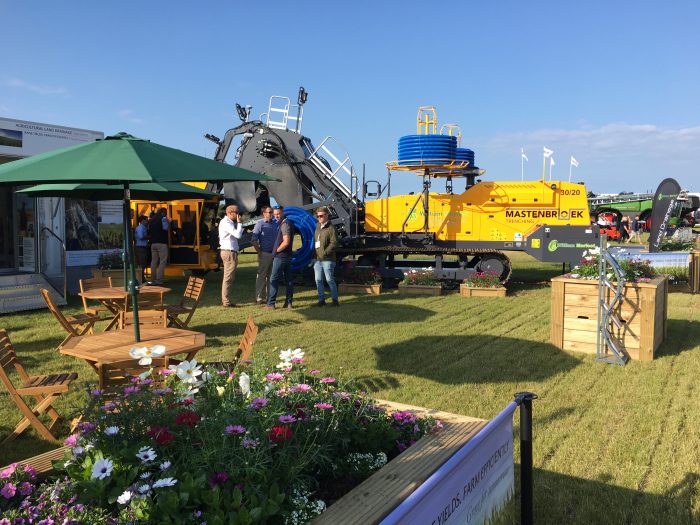 In terms of specification, this machine weighs in at 24.5 tonnes and has the capacity to dig down to a depth of 2.5 metres below the ground & lay pipe in the base of the trench (whilst also applying a gravel back fill directly over the pipes).  Trench widths can be up to 450mm.  It can lay pipes & utilities of various sizes and is fully automated in terms of it's guidance.  The Trimble GPS system on the machine controls both where the machine drives and the gradients which are applied to the new land drains that are being installed.  The automated sink control system ensures that pipes are perfectly graded – even when working softer subsoils such as peats or running sands.
The machine is currently visiting the various summer shows including Cereals Event, Lincolnshire Show and then the Norfolk Show. It will be on our stand at these shows allowing customers to see exactly how we carry out our land drainage operations on the projects we undertake.  Come and see it for yourselves at any of these events and our team will be on hand to answer any questions concerning how the machinery works – or with regard to our wider land drainage operations.  Following on from the shows, the machine is set to go straight out to work on our summer time land drainage projects so you may well see it out working in the fields over the course of the summer months.