Farm Track Improvement and Construction
Anyone who works in the countryside will have a close understanding of the importance of farm tracks and roadways.
In many instances, these tracks are a vital route to access areas of rural ground which might otherwise be difficult to reach.
From a farming perspective, trackways represent a major component of farm infrastructure – vital for getting large equipment around farmland all year round and importantly a route to ferry expensive produce from the fields safely back to the store.
Farm tracks unfortunately have a tendency to deteriorate over time – especially when they are used heavily during wet winters.
As they are unsealed roads, they have a routine requirement for upkeep and maintenance, and for many, this involves importing fresh material to infill potholes and lower parts of the roadway.
It can be very costly and it is extremely important that it is done right to give a smooth ride to the equipment that needs to efficiently travel on the tracks as part of the operation of the farm.
We have been involved in track construction and maintenance over many years, but this year has seen us introduce some new technology to our fleet of equipment, specifically aimed at trackway improvements.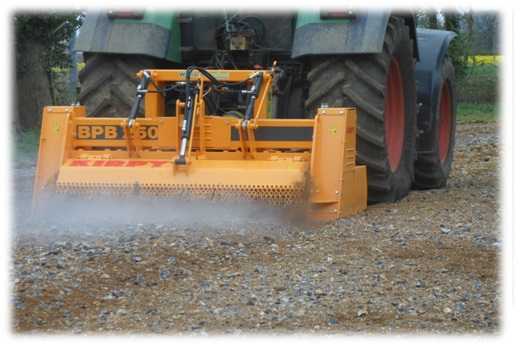 Critically, this equipment allows us to rejuvenate existing tracks and re-use materials which are already present within the trackway, as opposed to necessitating the need for buying in expensive refresh material.
The equipment is used on a 4 stage basis as follows:
1. Scarifying up of existing tracks with a specialist ripping tool
2. Working and regrading existing hardcore with our specialist Kirpy reclamation machine
3. Grading the tracks with a 3 way tilting blade to create a camber in the tracks to shed the surface water
4. Consolidating of the tracks with heavy duty vibrating compactors
Importantly, the attraction for many in using us to do this kind of work is our specialist knowledge in drainage.
For tracks to last longer they must not be left with surface water on then, as it leads to potholes developing.
Additionally, our teams can make sure that verges are looked at, to allow water to run off the roadways and where necessary, install soakaways or make provision to drain the water away by other means.
The kit has been a big success with customers already booking in more trackways to be done over the summer months.
Many customers particularly like the fact that the machinery can crush existing larger aggregate (brick rubble) into a more acceptable grading for use in their farm roads, saving them a lot of money.
To find out how we can help improve your tracks, give us a call on 01362 820371