Farm Drainage critical after wet winter
The record breaking wet winter time of 2020 left many farms with saturated land.  Many autumn crops never made it into the soils and equally troubling was that a lot of late harvested root crops struggled to be gathered in.  Farm machinery couldn't get near many fields and countless stories emerged of bogged equipment as farmers desperately tried to get on with their arable operations.
There was however a good news story which also became very clear from many of our clients during this ultra wet period.  This was the fact that land drainage investment over previous years had dramatically paid off – with many farms reporting that recent drainage investment had paid for itself in a single season!  A number of our clients commented that drainage scheme investment had been the difference between getting a crop of winter wheat in the soil or not which was obviously a powerful message to take in.
This spring has seen our teams reacting to a surge in demand for land drainage and much of the work has either been completed in land which has been left fallow through the winter.  A lot of work has also happened through the growing crop and this looks set to continue right the way up to harvest this summer.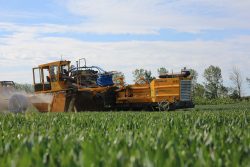 The typical pay back model for land drainage investments widely acknowledged as being around 5-7 years – with drainage scheme lifetime being several decades at the least.  However, that model assumes normal rainfall patterns and in particular, normal autumn and winter seasons.  The autumn & winter of 2019/20 set a new benchmark for rainfall.  This has highlighted the benefits that land drainage investment is capable of offering and proved the invaluable assistance that drainage can provide as a tool to assist fields in recovering from excess rainfall more quickly.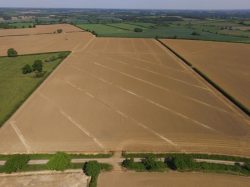 We undertake land drainage projects on farms across the UK and offer a full design and installation service.  If you have any requirement for drainage on your farm, please give us a call and we will be pleased to come out and meet with you.