Compelling Reasons for Land Drainage Investment
Every few years, a season and set of events comes along that provides some added weight to justifying Land Drainage investment.  2020 has definitely been that season.
From floods to droughts, Brexit, Covid 19, crop market volatility along with a host of difficult agronomic reasons; the payback on drainage investment has been rapid over the last 12 months.  Crop establishment was horrendously difficult for many and title image in this story shows a farm we have worked on over the course of this summer – which is still exhibiting obvious major scars from the autumn and winter just gone.
With declining BPS and spiralling costs also playing their part too, the need to reflect and consider carefully what options there are to underpin future farm incomes, the rational behind drainage investment is relatively simple.  The installation of a comprehensive drainage scheme in ground which is poorly draining is typically leading to a yield uplift of somewhere between 25-35%.
But this is not just about chasing bigger yields.  It is about increasing margins.  Drained land is easier to farm.  The soils are more easy to work.  The soils respond to inputs better – so herbicide application for blackgrass control are more effective.  Therefore costs are less.  And timeliness is better – so there is no longer a need to endure uneven crop ripening, or waiting excessively long for a field to 'dry out' before carrying out a set arable operation.
We've noticed a significant increase in our enquiry levels in response to events last year, but what has been especially interesting has been the number of farm businesses who have been contacting us requesting us to put together a program of works over a number of years.  5-10 year programs are being discussed with a number of growers at the moment with a controlled and long term strategy by the farm to improve drainage systems accordingly.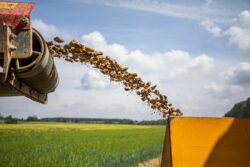 To discuss your future land drainage needs, please get in touch with our team and we will be pleased to take your enquiry forwards accordingly.